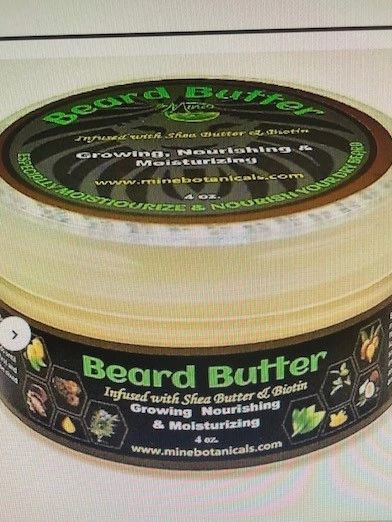 Beard Butter
 > 
SIZE - 4 oz - Use Daily
I
nfused with Shea Butter & Biotin
Growing, Nourishing & Moisturizing
Beard butter is the best of both worlds, the perfect balance between an oil and a wax. It is infused with natural minerals and essential oils to help keep your beard healthy while also helping your beard shine. It locks in a deep condition for your beard beyond what a quality oil can do alone, especially with longer length. It will leave your beard soft and manageable, keep it styled to perfection, and leave it smelling great! Made with all natural/organic ingredients that will protect your beard, reduce irritation, keep your follicles moist, and promote fast growing beard. No more beard ruff, itching, flaky and patchy beard with crazy hairs sticking out in all directions. Beard Butter moisturizes your beard and treats the skin under it at the same time.
Ingredients: Raw Butyrospermum Parki (Shea Butter), Cocoa Seed Butter, Bees Wax, Aloe Vera, Sweet Almond Oil, Coconut Oil, Vitamin-E , Biotin, Wheat Germ Oil, Jojoba Oil, Argan Oil, Castor Oil, Tea Tree Oil, Rosemary Oil, Cedar wood Oil, Grapefruit Seed Extract & Natural Fragrances.
Use: - First scoop out about a thumbnail size amount from the jar, rub it into the palm of your hands until it is fully melted. Once melted, massage it into your beard starting at the root of the hair follicle first and then gradually make your way to the end of your beard – this ensures that your beard ruff will be nixed by keeping your skin and beard fully hydrated.
Size: 4 oz.
Made in the USA